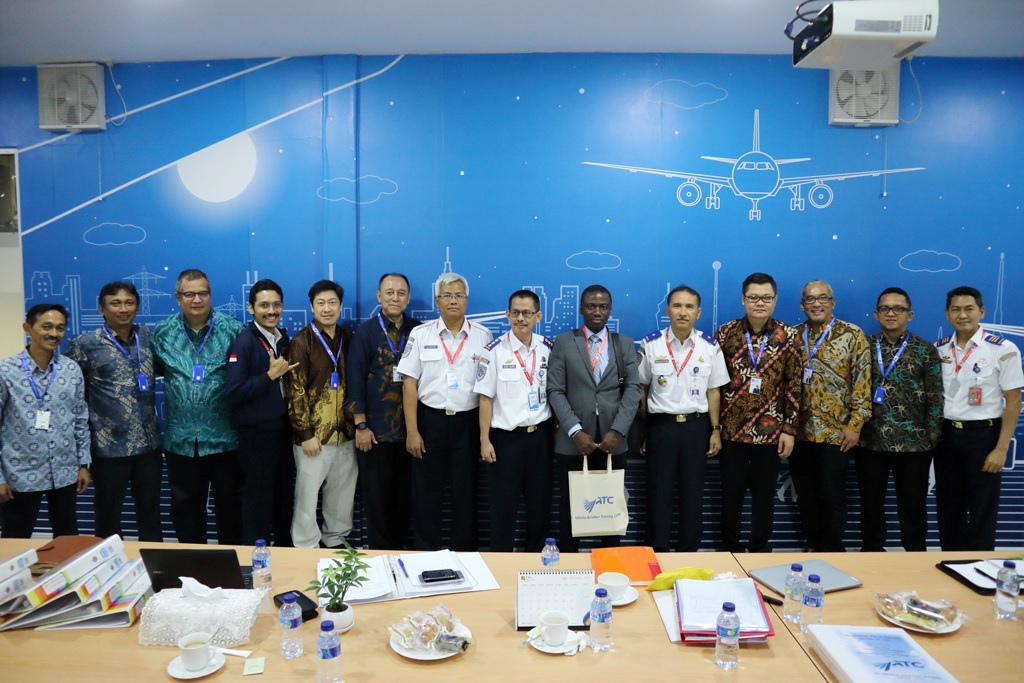 Tangerang, October 16, 2017 – The International Civil Aviation Organization (ICAO), which is directly under the auspices of the United Nations (UN), conducts audit visits to Indonesia. Headquartered in the city of Montreal, Quebec, Canada, the ICAO Council is tasked with overseeing the principles and techniques of international air navigation as well as encouraging and developing as well as ensuring safe and orderly international air transport.
Represented by Mr. Louis Kweku Opuku as ICAO Auditor for International Standards and Procedures – ICAO Universal Safety Oversight Audit Program, visited the Jakarta Aviation Training Center facility. The visit was conducted as one of the series of ICAO Audit for air transport safety supervision function in Indonesia.
In its capacity to oversee the civil aviation safety level of a country, ICAO maps 8 (eight) aspects of air safety, including Indonesia, where one of the eight aspects is Personal Licensing. For Personal Licensing, ICAO appoints JATC to be the representative of Indonesia for confirmation and verification to measure the compliance level in the Personal Licensing aspect.
"An honor for JATC has been chosen by ICAO to be visited as well as looking directly for surveys and verification. For JATC, quality (Quality) and Safety (Safety) quality are part of our daily value, so we are quite confident that JATC has complied with all the terms set by ICAO. And we are also proud, JATC can represent Indonesia on the occasion of USOAP (Universal Safety Oversight Audit Program) from ICAO. This success can not be separated from the guidance and directives attached to this from DKPPU (Directorate of Airworthiness and Aircraft Operations) and the Directorate of Flight Navigation that overshadowed JATC, "said Mr. Arif Syafrie as President Director of Jakarta Aviation Training Center (JATC).
About JATC (Jakarta Aviation Training Center):
JATC is an independent aviation training provider established in 2010. Located near Soekarno – Hatta International Airport, equipped with modern equipment, competent teams and trained and certified training personnel and engineers working 24/7 for ensuring the best services provided for each individually trained person. Currently JATC provides Type Rating Pilot Training for A320 and B737NG, Wet Lease, Dry Lease, Differences Training, ATPL, Jet Orientation Course and Aviation English. JATC also provides training related to air navigation under Part-143 certification.
In May 2017, JATC officially joined PT Cardig Aero Services Tbk (CAS Group), as one of the largest air transportation service providers in Indonesia.
About PT Cardig Aero Services Tbk (CAS Group):
One of the CAS Group's business units is PT Jasa Angkasa Semesta (JAS), established in 1984 to meet the needs of aerospace services at Soekarno-Hatta International Airport. Then, in 2004, PT JAS Aero Engineering (JAE) and in 2011, CAS Group started its initial public offering and established CASC. In 2012, CAS Group invested in ownership of catering services (PMAD) and CASB facility management. In 2014, CAS Group launches a new identity and launches a cross-business synergy program, as well as strengthens control over its entity. In 2016, CAS Destination has served 68,093 flights with 21,620,705 passengers and 274,738 tons of cargo in Indonesia. CAS Destination itself oversees two entities namely PT Jasa Angkasa Semesta Tbk (JAS) engaged in Cargo Handling & Ground Handling and PT JAS Aero Engineering (JAE) engaged in Line Maintenance. While CAS Food has produced 7,654,730 food in 2016 and oversees two entities namely PT Purantara Mitra Angkasa Dua (PMAD) engaged in In-Flight Catering and PT Cardig Anugrah Sarana Catering (CASC) engaged in Industrial Catering. Furthermore PT CASB engaged in Facility Management has served 89 clients in 2016. In May 2017, CAS Group has acquired Jakarta Aviation Training Center (JATC).